I saw a very cool advent calendar that someone made, and I started thinking about it as a possible Christmas gift for those friends and family members with small children. I've collected a few materials already, but have stalled a little on the whole idea. Luckily, it's only June so I have plenty of time to work on it.
My idea incorporates several different things I've seen, such as this one: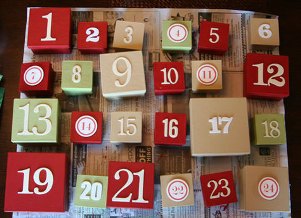 But it's a little too plain. I want one with a more Christmas look. Maybe more like this one:
But I don't like how uniform and symmetrical this one looks. It's a little too perfect.
I saw several like this one, but this is not what I had in mind at all.
This is much more like what I had in mind, but I don't think I want to make it as big.
I like the different sized boxes and the different papers used. It's not too symmetrical and is interesting to look at. Now I just need to figure out what I want to put in all of those boxes. Any ideas?